As educators we spend so much time learning about children, how they learn, what resources to provide, and how to best guide them to success in the classroom. But sometimes it is too much theory and not enough practice. Theory to practice--what we know should match what we do, but as you know, that is not always the case. Sometimes, in learning about how to implement best practices on the behalf of children with learning disabilities, admittedly, we ourselves can be slow. Here, Connie's story, presents a parent's view of the difficulties faced when confronting her child's learning disabilities in an educational system whose practice was not yet aligned with current learning theory. Thank you, Connie, for leading the way!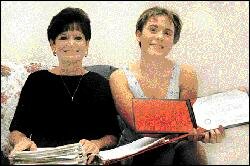 M. Ferguson Tinsley/The Dominion Post
Connie Matthews (left) and her daughter, Allison, reached a hard-won goal when the 19-year-old graduated from Morgantown High School last year. Allison struggled to overcome learning disabilities, so her diploma means a great deal to her.
To make sure daughter received education
BY M. FERGUSON TINSLEY
The Dominion Post
By second grade, Allison Matthews hated school.
She hated school so much that she purposely smashed her finger in the joint of a folding chair so her mother would have to come to school.
"I just wanted to go home and I thought, maybe if I hurt myself, they'd send me home," she said.
Allison's family says they have grappled for 10 years with the Monongalia County School Board to see that Allison, a child with learning disabilities, finished school.
The Monongalia County school system maintains a policy of confidentiality and will not discuss student cases with the press.
As a result of Allison's family complaining to the U.S. Department of Education Office of Civil Rights and the state Department of Education, Monongalia County schools were forced:
* To develop and publish civil rights grievance procedures on all general information distributed by the Mon County system.
* Publish the name of the civil rights coordinator for county schools.
* And acknowledge that the district had illegally held Allison's records.
How it began
Today, Allison, 19, is a 1999 Morgantown High School graduate. But for 10 years, merely attending school was traumatic.
When Allison was 8, a psychologist diagnosed her with attention deficit with hyperactivity disorder. Thus, her mother understood why Allison was often miserable in class. "She didn't have the carefree life of a child," Matthews said.
Then life double-teamed her.
Later tests showed she also had learning disabilities. Her grades and her self-respect plunged. But Allison covered up her problems. She looked and acted like the other children. Allison didn't want to be labeled "retard" or "LD kid" or "slow learner."
Still, she was drowning in a sea of information. The teacher's words, the textbooks, class comments, fig ures on the chalkboard, all deluged Allison's mind. And no one saw her flailing around and gulping for air. No one except her mother Connie Matthews, 46.
Matthews said First Ward Elementary School teachers should have jumped in to save the third-grader. But that was the year Matthews began swimming to shore with the girl.
Consequently, she swam through a flood of stipulations and procedures that flowed from the Individuals with Disabilities Education Act. Matthews attended dozens of Individualized Educational Program meetings and wrote countless letters and memos to the l ocal school authorities.
"I didn't know that I had to have a special education degree and a law degree to have my child in school," she said. "It shouldn't be that way."
Skirting the issues
Matthews said Mon Schools skirted IDEA requirements for Allison.
The IDEA charges schools with finding and serving every disabled school child, no matter how severe or limited the disability. Congress said the schools must give every youngster a chance at a "free, appropriate public education."
But, when Matthews asked for Allison to be tested at the end of the second grade, and again in the third, she said teachers simply told her, "Allison is just not working up to her full potential. She'll be fine."
Matthews said she didn't realize it then, but based on state policy, the school should have provided testing and paid for it. Instead, in the summer of 1990, Matthews sought out Caroline Esposito, a psychologist, and paid for testing herself.
The psychologist recognized and documented Allison's hyperactivity problems. Matthews gave the information to Allison's teachers and the school principal. But the school said Allison was still not eligible for special education services.
"They said there was no specific learning disability," Matthews recalled. "But the failing grades were enough to know that the child is not getting the academic information. Why would the school allow her to stay and flounder and fail?"
At the end of fourth grade, Matthews took Allison for a second, more extensive, evaluation at the W.G. Klingberg Center for Child Development at WVU Hospitals -- again at her own expense. The Klingberg psychologists found that, along with the attention deficit problems, Allison had trouble understanding visual and auditory information -- much of what she heard or read she could not absorb or recall quickly.
Again, Matthews shared these findings with staff at First Ward School.
Again, the school district said Allison was not eligible for special education services.
A failed plan
One school administrator seemed to notice Matthews' quandary.
In a memo dated July 1991, then-Special Education Director Estelle J. Lombardi asked the principal at First Ward to take the mother's questions seriously and to set up more than academic testing, which was all the special education teacher had yet performed.
"I get the feeling that the mother believes that she has been given the run-around," she wrote in a memo to First Ward principal Ken Wolfe. "I would like to assist you in making Mrs. Matthews a supporter instead of an adversary."
But little changed.
Despite Lombardi's memo, she and Allison's special ed teacher signed an eligibility report that said Allison "does not meet the eligibility criteria for SLD (specific learning disabilities) at this time as there is no severe discrepancy."
However, Allison's workload was lightened and a special ed teacher was assigned to her. And she was to be tested at the end of the first quarter. Special education services -- such as extra help with English and spelling -- were still not forthcoming.
At last, in the winter of 1992, after hunting down parent support groups, it dawned on Matthews that Allison's civil rights under section 504 of the Rehabilitation Act, as well as her right to special education services under the IDEA, were being violated.
By now, she'd taken Allison to Chestnut Ridge Day Hospital for one more evaluation. Allison was in the fifth grade. Matthews then wrote a letter asking why the three professional evaluations she had secured weren't enough to get Allison the help she needed.
She said she also complained to then-Superintendent Jack Dulaney about the lack of district responsiveness.
Within days, Lombardi told Matthews the district deemed Allison "other health impaired," based on the reports Matthews had paid for.
The first Individualized Education Program meeting for Allison was set for Jan. 17, 1992.
The IEP team formed a plan: Mathews would sign all homework assignments; Allison had the option of a 45-minute study time at the end of the day; teachers were to give the principal Allison's grades; and Allison would not see her own report card -- seeing her grades demoralized her.
But Matthews said the plan failed.
Allison became more and more depressed. She started calling Matthews at her office, crying on the phone, begging to be picked up.
"So, I told them: 'Hey, guys this isn't working,'" she said.
About the same time, the end of fifth grade, Allison's doctor prescribed Ritalin. She was at last able to focus. Her eyes were opened for the first time.
"She started realizing how far behind she was," Matthews said. "I remember exactly what she said: 'Mom, it's the first time I understood what the teacher was saying.' It still gives me chills to remember that."
Bad bounce: class and home
But, that epiphany compounded Allison's misery. "She got so anxious," Matthews said. Allison's doctor prescribed Pamelor, an anti-depressant. "Anxiety disorder set in and from anxiety disorder it went into depression. Here you have your fifth-grader on a * anti-depressant, which is really, really just awful."
In March, Chestnut Ridge psychiatrist Terry Pritt recommended homebound tutoring. Consequently, the school ordered a tutor to work with Allison at home for two hours a day, two days a week. Allison finished the year at home.
Sixth grade breezed by.
"Allison had an excellent teacher," Matthews said. "She had been a tutor for Allison in the past. All the supports were there; the trust was there. She felt really comfortable going to the teacher and asking for help."
Overall, middle school was more like third through fifth, Matthews said. Then, at the end of middle school and through high school, Allison went back home.
But this time -- at Matthews' insistence -- she got at least a half day's instruction, Monday through Friday. She traveled to school for typing, art and music.
Matthews said at one point, in her senior year, they had hoped to ease Allison into a current events class, but when she was expected to read Newsweek magazine in class and then quickly comment on the articles, they found her disabilities were permanent and still prominent. Allison, unable to do the teacher's bidding, ended up in tears.
"She was overwhelmed," Matthews said. Allison finished her senior year at home. "It was the least restrictive environment for her."
Allison went to the classroom only for typing that year. For all other lessons, a homebound instructor visited her four hours a day, five days a week, Matthews said.
So, the fight to keep Allison's head above academic waters ended with her graduation at 2 p.m., May 29, 1999, in the WVU Coliseum.
Civil rights wrangling
The Matthewses' 10-year fight left Mon County schools system sopping wet.
In January 1997, Matthews filed noncompliance complaints against Mon County schools with the U.S. Department of Education Office of Civil Rights. The OCR determined that the district:
* Denied Allison "a free, appropriate public education in the least restrictive environment."
* Maintained an inaccessible administration building.
* And did not adopt or publish grievance procedures for students with disabilities.
Mon schools was forced to comply.
On Aug. 22, 1997, Ed Warnick, the new Mon schools superintendent, signed an agreement to comply. The schools agreed to order evaluations and services for Allison. By now, she was 17.
Further, the Matthewses' complaints forced the system to set aside disabled parking spaces at its central office, widen the first-floor doorway to the parking lot, broaden a vestibule, and install an emergency warning system specifically meant to alert t he deaf and to create enough room for a wheelchair in the first floor rest room.
Finally, Mon County schools had to publish the name, address and phone number of the system's civil rights coordinator along with a plan for grievance recourse on documents circulated to the public. Before the decision, the printing of student civil righ ts on those documents was often set in miniscule type or did not appear at all.
And, on May 7, 1999, Matthews and Allison filed separate complaints with the West Virginia Department of Education saying that the district illegally held Allison's school records.
That's because on April 9, Allison asked to see all of her educational records. The system had 45 days to hand over the records. Six months passed before she saw them. Mon County schools system claimed that part of the records were included in a "legal f ile" and were not available to her.
The state disagreed. On May 28, Mon County schools had to give over all the files.
By June 29, the district agreed to make copies of Allison's entire file, but they told Matthews she would have to pay $400 for them.
Ultimately, the state education department:
* Demanded that Mon schools offer copies of the whole file at no cost.
* Chastened the district for stonewalling Allison.
* And demanded to see a copy of the county's procedure for complying with requests made under the federal Family Education Rights and Privacy Act and Freedom of Information Act -- the laws that supported the Matthewses' actions.
A foot-high stack of paper arrived at the Matthews home in August.
Matthews now works with Morgantown-based special education attorney Reed Martin. She and Martin help other parents who are struggling to get educational services for their disabled children.
Matthews, formerly an American Lung Association regional program director, says her life wouldn't be what it is now if she hadn't battled for Allison.
"It was worth it," Matthews said while relaxing in the living room of her Morgantown home. "But I and she should never have been put through it. She gave up 10 years of her life and I gave up 10 years of mine."